Published on | General
Today was the first anniversary of the dedication of the UK Police Memorial at the National Memorial Arboretum. Police forces and families of fallen officers were invited to a special service to mark the anniversary, attended by Home Secretary Priti Patel MP, and pay tribute to officers from around the UK and working overseas, who have been killed or died as a result of their police service.
West Midlands Police were represented by Director of Commercial Services Peter Gillet who was joined by members of the West Midlands Police Museum team, Corinne Brazier and Steve Davies. The force invited Ralph and Evelyn Corfield as their special guests, as today marks 80 years to the day since Ralph's father, a Birmingham special constable, was killed in an air raid whilst trying to rescue others caught up in a previous blast.
Ralph and Evelyn Corfield seated, back row left to right Steve Davies, Corinne Brazier and Peter Gillett.
When he signed up as a special constable, Ralph Corfield's occupation was recorded as aircraft assembler, although he was actually a cabinet maker by profession. He got a job at the Austin Motor Company in 1926 but during the war he was transferred to Nuffield in Castle Bromwich where they made Spitfires and Lancaster bombers.
Ralph and wife Elizabeth bought a run-down shop in 1932 (or as his sons Ralph and John recall being told by their mother – Ralph Senior bought the shop and then surprised her with it!). It was soon turned into a profitable business selling sweets and tobacco locally and wholesale. Ralph would also take a suitcase full of goodies to the Nuffield factory to sell in his lunch hour. The family lived above the shop on Lozells Road and Ralph was looking into purchasing the premises next door to expand his enterprise.
Having a fulltime day job, running a shop and supporting his wife and two children was not enough for Ralph. He wanted to do something more for the war effort and so he joined the Birmingham City Police special constables. His sons remember how proud he was when he came home to tell them the news that he had been accepted. They state he used to drive around with his police hat on the back seat to let people know.
Ralph Corfield signed up to join the police in May 1942, which turned out to be towards the end of the bombing raids in Birmingham. He was given the collar number R508 and based at Lozells Road Police Station.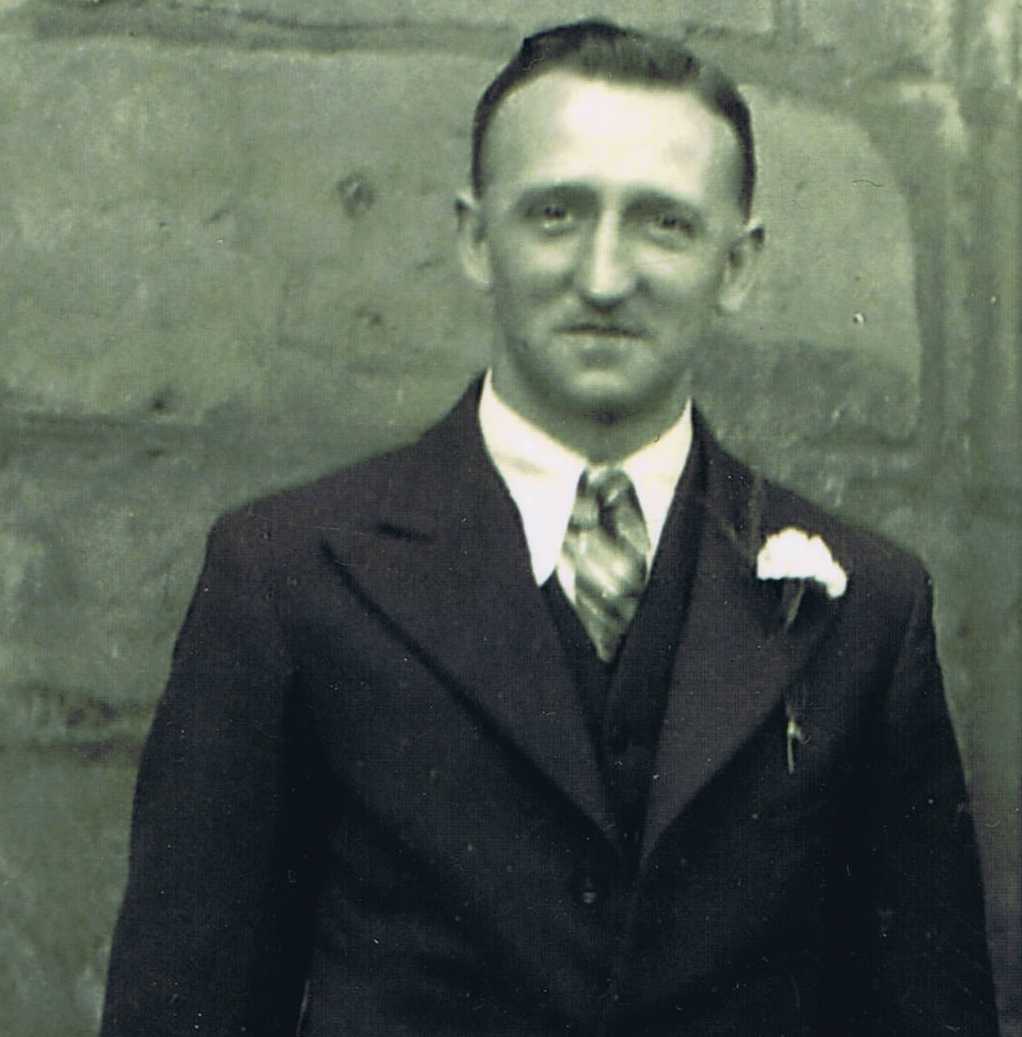 The evening of July 28th 1942 was clear so they were settled down to sleep in the shelter. Ralph had been on duty that night and there was a raid at about 1am. He went to check on his sons and make sure they were ok, and then he left the family home to help fight fires as bombs had fallen by their home in nearby Wilton Street. The Lozells Picture House was destroyed and the manager died that night along with the wardens. Ralph never came home – his wife eventually went to look for him and found him under a pile of rubble. She was absolutely distraught and his sons believe she never got over losing him, even though she later re-married. She stated she would be buried with him and she was when she died in 1984. She did however find the strength to carry on and raise her two boys in another example of wartime spirit. She continued to run the shop until 1954 until an illness forced her to retire.
Ralph recalls the funeral of his father – a Union Jack was placed over the coffin and it was well attended by the police and public from the local area who knew him from the shop. He also remembers helping his mother out with the accounts in the shop after Ralph's death, which stood him in good stead as he later had a successful career in accounting.
80 years to the day since he lost his father, Ralph was proud to attend the one year anniversary of the unveiling of the UK Police Memorial at the National Memorial Arboretum, to represent the families of fallen West Midlands police officers.