Published on | General
This guest blog post comes from our work experience placement Zainab. This is her experience with us, in her own words
Throughout my time doing work experience at the museum, I have learnt a lot not only about the history of policing, but I've also acquired a set of skills that will benefit me greatly in future employment. I believe this museum possesses many qualities that make it a unique, great place to be.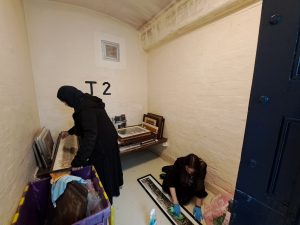 Firstly, the history preserved in the museum is of such high value; some of the artefacts date all the way back to the 1800's, telling the story of how the police force used to work as well as all the milestones reached in the force. Because of this, I'd say my favourite exhibit at the museum is the timeline which covers all the key dates and developments in the history of the West Midlands Police. I believe this is very important to educate people about, which is why I also think it's a really good exhibit for the children to see on school trip days.
Children who want to become a part of the police force have the opportunity to see first hand how far it has come, as well as witness some of the super cool old uniforms, weapons and gadgets the police used to use. The children also have several fun and interactive sessions throughout their time here, including dressing up as police and solving mysteries.
Working alongside the staff and volunteers has also been a pleasure. I wouldn't be incorrect in saying you're never without a friend in this place! Everyone is always kind, welcoming, enthusiastic and willing to show you around the ropes or help you out in any situation. I've really grasped many new skills in my time here, including working apart of a great team, communicating and learnt alot of new history!
Whether you're wanting to apply for experience, as a volunteer or looking to take a visit around the museum, I think this place really is the best at doing what it does, with an amazing group of people running the show!
If you are interested in doing work experience or a placement with us email museum@westmidlands.police.uk