Published on | General
Richard Henry Hawkins BEM served over 50 years with Birmingham City Police
His service started during the reign of Queen Victoria and spanned two world wars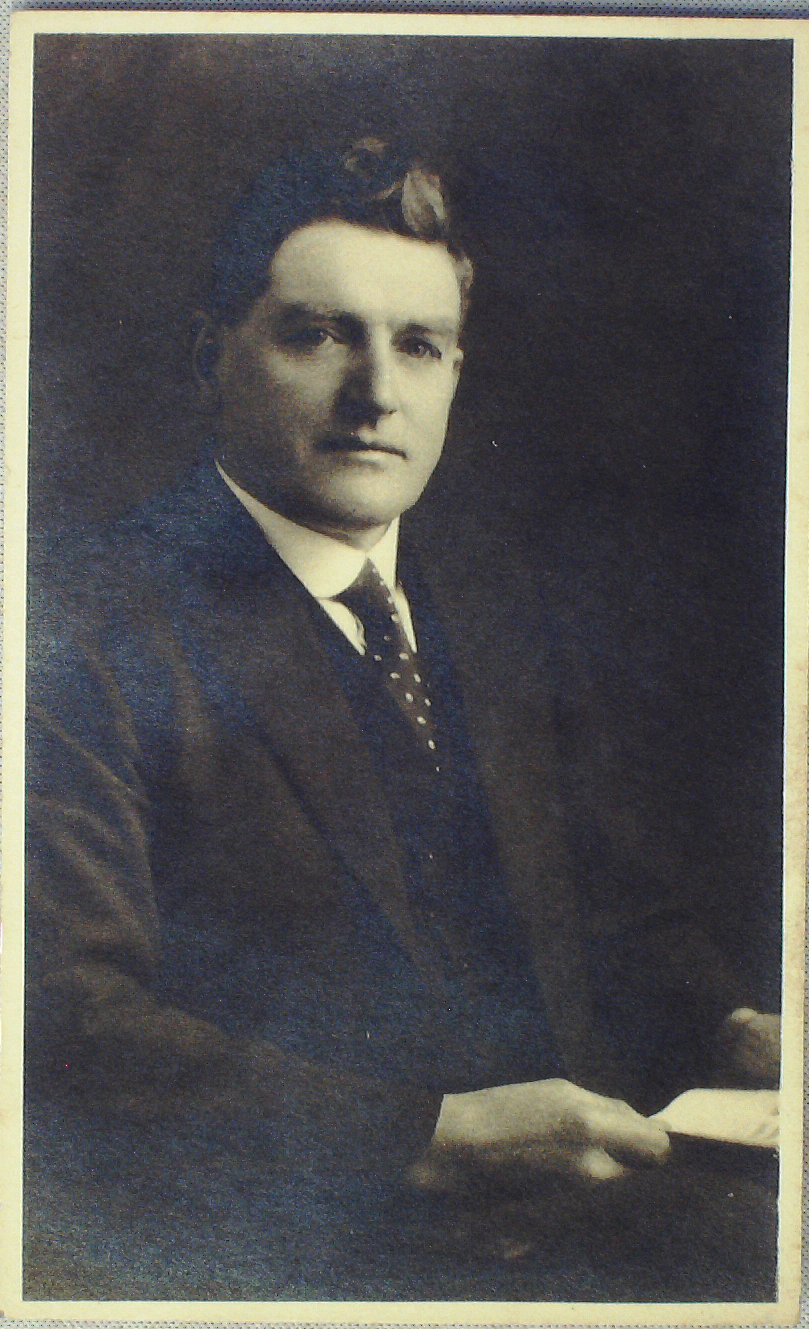 Richard Henry Hawkins was born in Birmingham on 22 December 1872. In 1881, aged 8, he was living with his father, Henry Hawkins (52 yrs) a rolling mill labourer and his mother, Rachael (49 yrs) a charwoman, at 4 Violet Place, Rotton Park, Birmingham [1]. He attended Clark Street Board School until the age of 12 and then worked in various local factories [2]
The 1891 census shows he was employed as a brass tuber[3]. His mother Rachael appears to have died in June 1889.
In 1892 he emigrated to Nova Scotia (New Scotland) and found work in the coal mines before working on a steam boat plying the route between Gloucester and Boston, Massachusetts[4].
In 1895, he returned to England for a holiday after the cost of a trans Atlantic trip dropped to fifty shillings (£2.50). He remained in Birmingham after spending the money he had for the return trip [5]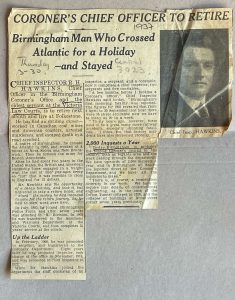 On 24 July 1895, he joined the Birmingham City Police as Harry Hawkins and was initially posted to Ladywood. He married Margaret O'Loughlin on 28th April 1897 and they went on to have five children. Margaret died on 19th April 1927[6].
In 1908, whilst cycling to make enquires in Ward End he was involved in an accident when he was struck by the shaft of a vehicle drawn by a startled horse. The shaft penetrated his stomach and he was only saved by what was described as brilliant surgery by Professor Sir Gilbert Barling[7].
The 1911 census shows he was a patient in the General Hospital [8]. The reason he was in hospital is not recorded, but presumably it was not connected to the accident in 1908.
It was around this time that Harry was transferred Victoria Law Courts, working first in the Summons and Warrants Department and then the Coroners Office. He was promoted to Inspector on 3rd July 1916 and Chief Inspector on 5th May 1920. He retired, aged 65, on 30th June 1937. There were numerous newspaper reports on his retirement. He was said to be going to live in Folkestone.
On 2nd September 1939, Harry was one of the first retired officers to re-join the Birmingham City Police as a First Police Reserve[9]. In 1939 he was living with his oldest daughter, Kathleen, at 176a Alcester Road[10]
In 1946 he was awarded the British Empire Medal for outstanding service during the war[11].
Harry finally retired for a second time on 28 February 1949, aged 76, after completing what could be the longest period of service recorded for a Birmingham First Police Reserve. He went to live in the USA with his son, the Commercial Manager of the Westchester Light Company, New York State[12].
---
[1] Ancestry 1881 census
[2] Newspaper cutting 8 dated 1937
[3] Ancestry 1891 census
[4] Newspaper cutting 16 May 1943
[5] Newspaper cutting 15 undated
[6] Birmingham City Police service summary
[7] Newspaper cutting 15 undated
[8] Ancestry 1911 census
[9] Birmingham City Police FPR service summary
[10] Ancestry 1939 register
[12] Newspaper cutting 18 undated
[11] Newspaper cutting 17 dated 9 January 1946